Tent workshop Halang
has been working since 1990 For historical associations, museums, TV but also for camping...
… people who enjoy the special kind of freedom and leisure life,
Living History and Reenactment, i.e. historical groups who want to experience the life of past events in their free time authentically. In recent years, our teepee workshop has developed into a major producer of historical tents at home and abroad.
In our workshop, we manufacture true to the original – teepee, army tents, tents for baroque and rococo and historical tents from different epochs Contemporary history. The basics of all tent constructions are traditional sources.
Tents for trail riders and other mobile people, lodges and original canvas tarpaulins to protect against sun and wind are also designed and manufactured in our workshop.
We only use high-quality natural material/canvas. The fabric is produced in the EU, so long service life is guaranteed. The wood is sustainably felled in local forests.
To recreate historical events, special emphasis is placed on historically documented clothing and equipment.
Fine leather braiding – bullwhip and riding-whip (Whip and Quirt) and braided door pulls and coat ropes for vintage cars are made by hand. Our leather workshop is responsible for this. Babei our leather workshop, which bases its tradition on the leather handicraft of the city of Freiberg, has specialized in changing and repairing heavy leather suits for bikers.
Long before the foundation of the handicraft business "Westernbedarf Halang", Eva and Hartmut Halang very intensively with the history of the natives and the settlement of the North American continent as well as the historically correct reenactment of past eras.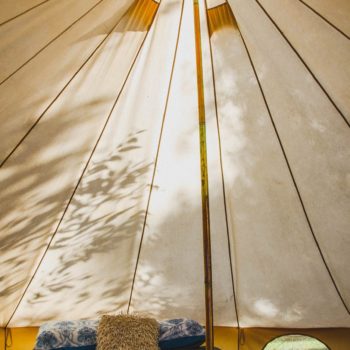 They sewed their first tipi based on original designs from the Sioux Indians and designed and tailored clothes and uniforms for hobby Indians and settlers based on authentic models. Chaps and western clothing based on Indian and trapper models were made from leather.
Leather bull and riding crops were braided. Halangs and her friends cultivated their hobby of recreating American history with great attention to detail.
Today, our customers particularly value personal contact with the "boss". Proper construction and long-term care are a must for the long life of a tipi. Professional assembly instructions, assembly on site upon request, dismantling after the end of the season and winter storage, arranging laundry and re-impregnation and, if necessary, repairs, are always handled personally by Hartmut Halang.